The History of Cornerstone Youth Center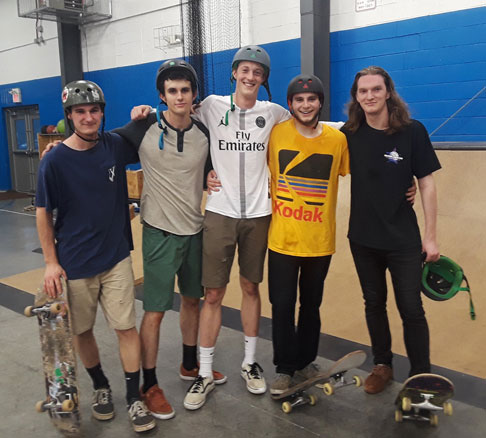 Spring 1998
J.D. Martin introduces his vision for a teen coffeehouse to 17 youth pastors in the greater Elizabethtown area.
September 1998
Cornerstone Café opens in the former David Martin Menswear Store, Center Square, Elizabethtown. The main emphasis is a Friday night coffeehouse. The entire staff is volunteer.
March 14, 2001
The first meeting of the Board of Directors occurs. J.D. Martin is approved is the organization's first paid Executive Director.
March 28, 2001
Early items of business include the development of purpose and mission statements, an operating budget, and a job description for the Executive Director.
November 2002
Sonja Martin agrees to serve as Interim Executive Director.
December 2003
Christie Murlatt, an Elizabethtown College senior, is the first official intern (volunteer). A partnership is formed with Coalition for Christian Outreach, a campus ministry that partners with churches, colleges, and other organizations to develop men and women who live out their Christian faith in every area of life.
February 2004
The Board approves a move from a coffeehouse emphasis to a more structured community youth center.
August 2004
Christie (Murlatt) Gustafson is hired as Executive Director.
October 2004
After school hours begin on Tuesdays and Thursdays, with expanded after school hours for teen homework assistance as well as recreation time.
Spring 2007
The Board of Directors studies whether to remain at Center Square or to search for a permanent home for the ministry.
August 2007
John Myers, a former pastor and Cornerstone volunteer, is hired as Executive Director. The CCO partnership continues.
October 2007
The Board of Directors submits an offer to purchase the 95 South Wilson Avenue property.
January 31, 2008
Cornerstone Youth Center closes its doors at the Elizabethtown Center Square location.
February 2008
With the assistance of volunteers donating more than 1000 hours of labor, renovations are made to facilitate the move in to Cornerstone's new location.
March 7, 2008
Cornerstone reopens its doors in the new location, with nearly 60 youth attending on the opening night.
September 25, 2008
Cornerstone Capital Campaign kick-off banquet. The dinner invites community support for its 3-year $750,000 goal.
September 2009
Temporary skateboard area opens in Recreation Facility to provide youth of Elizabethtown its only skateboard activities.
November 2009
Cornerstone hires Laurie Shepler as the first paid Administrative Assistant
Spring 2010
Phase I bids for construction go out.
July 1, 2010
Cornerstone exceeds the Capital Campaign goal of $750,000.
September 2010
Phase I construction begins. Construction focuses on the following areas (Café, Kitchen, Lobby, Staff Offices, Hub, Loft, Mix)
January 10, 2011
Phase II construction (Pit area) awarded to Scenic Ridge Construction.
Spring 2011
Phase I construction ends. Phase II construction (Pit area) begins
Fall 2011
Phase II construction ends. Construction of skate board ramps begin with the direction of Jim Shepler.
January 2020
Laurie Shepler assumes the position of Executive Director, previously held by John M. Myers.
April 2020
Jonathan Weatherholtz accepts the NEW part-time position of Coordinator of Youth and Ministry.
Spring 2020
The COVID-19 pandemic closes the Youth Center for 15 weeks.
Fall of 2020
The new addition of a 19′ Rock Climbing Wall is completed in the Skate Park.
March 2022
Jonathan Weatherholtz accepts full-time position as Coordinator of Youth and Family Ministry.
June 17, 2022
Executive Director Laurie Shepler unexpectedly passes away.  Her love and legacy continue on…
September 2022
Jim Bush is hired as Cornerstone's new Executive Director.