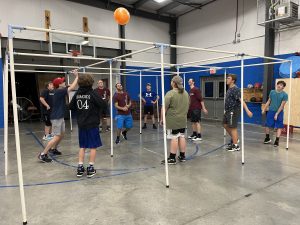 Without our volunteers, Cornerstone could not exist.  Throughout the years, countless individuals have lent their time, gifts, and hearts to the mission of this ministry.  We are forever grateful for those wonderful people.  In addition to serving as a way to simply give back, volunteering can be a deeply enriching personal experience.  If you are not yet involved, we invite you to explore the many ways you can help.
Find your fit at Cornerstone, below are just some of the areas where we need YOUR help!
Programming Team Member – After-school Monday-Friday 3-6pm, Friday nights 7-10pm, or Sunday evenings 6-8pm; We NEED responsible, caring volunteers to listen, shoot pool, serve snacks, play video games, play table games, help with homework, shoot hoops, and well you get the idea… to spend quality time with our youth!
Transport Team Member – Volunteer for a day or two to transport youth from school to Cornerstone (Mondays – Fridays 2:30-3:30pm). Certain qualifications apply.
Dinner Team Member – Did you know that Monday – Friday we provide a full dinner for our students? We need people who like to cook for others and are willing to bring a meal in weather that is monthly or weekly. If this sounds like something you would like to help with let us know!
Skatepark Team Member – Our Skatepark always needs some extra attention.  Skatepark volunteers help keep an eye on the activities (skateboarding, scootering, basketball, etc.) and help the youth keep it organized and safe by putting helmets and balls away when they're done with them.
Café Barista Team Member – Do you enjoy making coffee and specialty drinks? We have a new cafe with 2 state-of-the-art latte machines just waiting for you to come and serve in this way!
Arts & Crafts Team Member – On Wednesdays and Thursdays from 5-6pm we are in need of people who love doing crafts. We have several youth who enjoy making cute things from Pinterest, as well as drawing, painting, etc. If you love to make crafts this is the fit for you!
Rock Wall Belay Team Member – We have youth ready to climb our 19′ Indoor Climbing Wall and we would love to train you how to belay! We typically open the rock wall on Fridays 3-6pm and/or 7-10pm.
Life Skill Team Member – Every month we bring in people with various experiences to teach our kids a life or job skill. We call this program Clubs and it runs every Monday from 5-6pm for 1 whole month. We have had several come in and teach things like photography, cake decorating, etc. The point of these classes is to expose our kids to all the different kinds of jobs and skills they may need or enjoy as an adult, allowing them to try a variety of jobs and skills in a safe environment. If you are someone who has worked for a few years and has expertise in a life or job skill please reach out to us!
Cleaning Team Member – Once a month, basic cleaning opportunities are available to help keep us clean, organized and functioning well (this commitment is approximately 2 hours/month)
Prayer Warrior Team Member – We have a monthly prayer calendar that gives you a specific daily focus. At your request, the calendar will come to your email address.  We deeply appreciate your prayers for this ministry!
Want to volunteer?  Take the first step and complete an application.
Everything you need to start the volunteer application process can be found here.