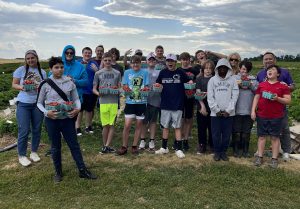 Unsure about coming to check us out?  Cornerstone has all the friends and fun a young person could hope for, plus a safe and supervised facility any parent could appreciate.  It's a win-win for everyone involved!  Best of all?  Our doors are open at no cost to you.
Our volunteer staff members all receive on-site training and thorough background checks.  The team includes recent graduates, college students, couples, parents, and retirees all with unique gifts and a passion for young people.  Many of our youth build strong relationships with these mentors and consider them adopted family members.
The road of life can pose a challenging journey during this period.  Our aim at Cornerstone is to foster positive peer relationships and provide comforting guidance through it all.  Many of our youth have found a second home here, attending several days a week, and often have a hard time saying goodbye once it comes time to graduate.  Just ask one and they'll tell you.  Still unsure?  The best way to know for sure though is to visit us during our operating hours.  We'll show you around and give you a proper C-Stone welcome! Youth are required to discuss and sign the Cornerstone Commitment Form.
Learn More